― LINKS TO ENVIRONMENTAL RESOURCES ―
---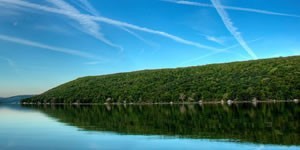 BLUFF POINT ASSOCIATION
The Bluff Point Association was founded in 1988, in order to promote the common good and general welfare of the residents and landowners of the Bluff Point area in the Town of Jerusalem, New York. The BPA seeks to protect the land of the Bluff and the quality of Bluff Point water. It welcomes visitors and encourages improvements to make their stay on Bluff Point both interesting and enjoyable. The BPA supports protection of the environment and promotes efforts to keep the cost of ownership on the Bluff affordable. The organization has forged a strategic partnership with the Finger Lakes Land Trust to foster conservation on the Bluff. Finally, the BPA communicates information about important Bluff-related issues to its members and the wider community..
BOATER SAFETY COURSES
Boater Safety Courses are available in Yates & Steuben Counties, sponsored by the local Sheriffs' Departments. Click above for their contact numbers. Also, see NYS requirements under "What", 'Laws & Regulations'.
Steuben County Sheriff - 800-724-7777
Yates County Sheriff - 315-536-4438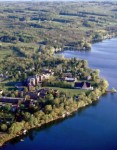 CENTER FOR AQUATIC RESEARCH - KEUKA COLLEGE
The goals of CAR at Keuka College: To provide authentic aquatic research opportunities to Keuka College students and faculty To better understand the structure and functions of Keuka Lake's biology and ecology and other water bodies through long-term and ongoing student-centered scientific investigation To focus the Center's research efforts on methods and projects that are unique, but complement, the work at existing regional research programs. To become a high profile entity in support of the Keuka College mission of experiential, hands-on education To positively and effectively interact and the public, and regional institutions, and associations.

COMMITTEE TO PRESERVE THE FINGER LAKES
Formed in 2010, our committee is committed to preserving the natural beauty and the purity of the water in the Finger Lakes region of New York State. Its scenic lakes and majestic landscape make the region worth preserving for future generations while tourism and agriculture are the well-established foundation of its economy. We promote the region's preservation by objectively identifying environmental and economic threats then informing and educating the general public, officials and administrators.

CORNELL COOPERATIVE EXTENSION - STEUBEN COUNTY
Our Mission

The Cornell Cooperative Extension educational system enables people to improve their lives and communities through partnerships that put experience and research knowledge to work.

CORNELL COOPERATIVE EXTENSION - YATES COUNTY
Cornell Cooperative Extension of Yates County (CCE of YATES) functions as part of a larger state and national land-grant system that extends research-based information to local residents, families and the agricultural community. CCE is an integrated network including campus-based faculty and extension associates, regionally deployed specialists and local county-based educators. As a result, CCE of YATES has access to current research findings from across the country and the world which it puts into practice by providing high value educational programs and university-backed resources.

FINGER LAKES - LAKE ONTARIO WATERSHED PROTECTION ALLIANCE
The purpose of the Finger Lakes - Lake Ontario Watershed Protection Alliance is to protect and enhance water resources by
•promoting the sharing of information, data, ideas, and resources pertaining to the management of watersheds in New York's Lake Ontario Basin;
•fostering dynamic and collaborative watershed management programs and partnerships; and
•emphasizing a holistic, ecosystem-based approach to water quality improvement and protection.

A major tenet of FL-LOWPA is grassroots programming. Water quality problems are defined and solutions are developed and implemented at the local level. Through participation in the Alliance, member counties develop a more regional perspective that informs local programming and encourages cooperation.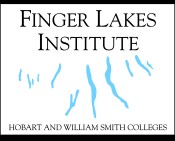 FINGER LAKES INSTITUTE
Finger Lakes Institute (FLI) is dedicated to the promotion of environmental research and education about the Finger Lakes and surrounding environments. In collaboration with regional environmental partners and state and local government offices, the Institute fosters environmentally-sound development practices throughout the region, and disseminates accumulated knowledge to the public.

The goals of the FLI are to:
•Advance, coordinate, and disseminate scientific understanding about the Finger Lakes environment;
•Provide interdisciplinary training for the next generation of environmental researchers, educators, and policy makers;
•Serve as a clearinghouse for environmental information about the region;
•Enhance understanding of environmental issues by regional policy makers and the public;
•Promote models that integrate economic, environmental, and social impacts of specific economic development strategies; and
•Create and disseminate educational resources and opportunities at all levels.

These goals are accomplished through four primary program areas:
Research, Education, Community Outreach & Economic Development

FINGER LAKES REGIONAL WATERSHED ALLIANCE
The purposes of FLRWA are to bring together the members, expertise and desires of the Finger Lakes watershed associations to preserve and protect their watersheds with a collective regional voice; to join forces to advocate for mutually beneficial regional changes, backed by sound research; and to promote collective actions that represent the desires of the entire Finger Lakes region.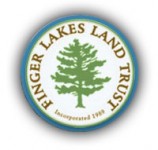 FINGERLAKES LAND TRUST
The Finger Lakes Land Trust was founded in 1989 to protect those lands that define the character of the Finger Lakes region of upstate New York. To date, the Land Trust has protected more than 13,000 acres of the region's wetlands, forests, farmland, grassland, and gorges. This has been accomplished through the establishment of nature preserves that are open to the public for quiet recreation, the use of conservation easements (voluntary agreements on private lands), and the provision of technical assistance and educational programs to local governments, landowners, and the public.

The Land Trust is a nonprofit organization supported primarily by membership donations and grants from private foundations. We hope you'll become a member and support the work we do.

The Land Trust has over 200 active volunteers and could use your help today. Contact us for more information about volunteer opportunities.


KEUKA WATERSHED IMPROVEMENT COOPERATIVE (KWIC)
The Mission of Keuka Watershed Improvement Cooperative (KWIC)

To protect and improve the purity of waters in the Keuka Lake Watershed by planning for uniform regulation of wastewater management regulations and pursue appropriate action to resolve other potential threats to Keuka Lake.


NEW YORK STATE FEDERATION OF LAKE ASSOCIATIONS
Our Mission: "To protect the water resources of New York State by assisting local organizations and individuals through public dialogue, education, information exchange and collaborative efforts."
The Federation of Lake Associations, Inc. was founded in 1983 by a small consortium of New York lake associations concerned about a variety of problems facing their lakes. Water quality was of concern to nearly all of the lake associations, and little information was available on methods to combat the increasing threat of aquatic invasive species. In 1995, the name was changed to the New York State Federation of Lake Associations, Inc. (NYSFOLA).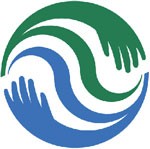 NEW YORK STATE SOIL & WATER CONSERVATION DISTRICTS
The mission of the New York State Soil and Water Conservation Committee is to promote a comprehensive natural resource program for New York State by supporting local Soil and Water Conservation Districts to develop and implement projects and programs that will preserve, protect, and enhance the wise use of the state's soil, water, and all related resouces.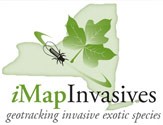 NYS INVASIVE SPECIES INFORMATION



Meet our Staff
Contact Us
Scientific Advisory Network


The New York Invasive Species Information Website - NYIS.INFO and its host, the New York Invasive Species Clearinghouse, [the two are jointly referred to as NYIS.INFO] were founded in October 2008. NYIS.INFO is funded with New York State Environmental Protection Fund resources through a contract with the New York State Department of Environmental Conservation. NYIS.INFO was established in response to Recommendation 5 of the November 2005 report of the New York State Invasive Species Task Force report to the Governor and Legislature. The Task Force recommended that the State should integrate invasive species databases and information clearinghouses. This resulted in the creation of the invasive species database and mapping project iMapInvasives and the information clearinghouse project, NYIS.INFO.

YATES COUNTY SOIL & WATER CONSERVATION DISTRICTS
Helping you to protect our soil and water resources for future generations...